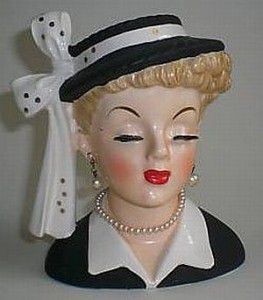 For January "Get Organized Month," I had a contest where I asked readers to share how three hours of organizing would be of value to them. The contest winner wrote in part- "One area in particular that I have been kind-of purposely avoiding are the boxes of items I had shipped from my parents house in South Carolina after they both passed away. {4 years ago} I'd love assistance and guidance in determining what to keep and what to say 'bye for now' to." We arranged a morning to meet and to begin working through the boxes. There were about 10 or so boxes packed with photos, miniatures, books, trinkets, jewelry, glassware, and some hand written notes. One of the treasures we came across was a precious 8x11 black and white photograph of her dad dressed as Santa. The photo sweetly captured
Santa
looking endearingly into the boy's eyes, who was clearly telling him what he wanted for Christmas.
her
collection – it was her mothers. And she is not her mother and she did not like most of the contents. However, she appreciated the glass case. As the process unfolded, she decided that she would choose a couple items to send to two of her mother's closest friends. She kept a couple items that she liked, including a small pitcher of her mom's. Much of her father's memorabilia symbolized milestones, work achievements, pins, and a plaid bowtie from his long-time successful barbershop quartet; all of which made Sherri smile. Prior to our appointment, Sherri had set aside some of her own childhood treasured memories (a red bear, doll, and some paper-dolls). She decided that it was time to create a display that "made her smile' that honored both of her parent's memories, alongside some of her childhood memories.
Thoughts from Sherri:  "The three hours I spent with Lynne at Wholly Organized were packed, or shall I say "unpacked" 🙂 with memories, smiles, some laughter and getting more things accomplished than I had even thought possible.  Lynne listened to my thoughts about items, but somehow managed to keep me on task without being pushy or overbearing in any way.    I never felt forced to part with any of the items, but at the same time I was very motivated to make the rational choices that I knew it was time to make.  I was tired of seeing the boxes piled in the front room of my home.  They were a daily reminder of the "job" knew I needed to handle.  My prior, failed attempts just left me with the same boxes, and most of the same stuff.     
I was thrilled to read about the contest, and entered thinking "what do I have to lose"?  I was beyond excited to have the opportunity to utilize Lynne's wonderful services.  I continue to be inspired by the progress that was made that morning, and I'm able to put to good use some of the tips that Lynne shared with me in other areas of my home.  And,  I now smile inside when I see the glass cabinet, and of course my all-time favorite picture of Santa."  -SK