---
The Whole Story
---
The Whole Story:
Lynne founded Wholly Organized!® LLC (WO) with the desire to merge her passion for empowering and helping others with her enthusiasm for creating organized spaces.  Jason joined WO with the ambition to make a positive impact on the quality of life of WO clients by addressing pragmatic concerns.  Jason treats every home as if it was his own home, ensuring a job's done properly. Together Lynne & Jason's overriding philosophy is to treat every client the way they would want their parent's treated, with respect and dignity.
Brief Background
:
Lynne began providing organizing services part-time in 2006 as "Organized Spaces by Lynne." In 2008, she married Jason, became a step-mom, sold two houses, moved, and began commuting from Akron to Cleveland. After being a Job Readiness/Soft Skills Training Services Manager for a non-profit for 14 years, Lynne launched WO.  Jason joined WO in 2017 after 23 years of corporate life. He holds a BS and Ph.D in chemistry.  Lynne and Jason realized that their skill sets were very complimentary.  Lynne's social work and organizing training allow her to address the client's emotional needs. Jason's training as a scientist, his corporate experience in recognizing potential safety hazards, and his enjoyment of "do it yourself" projects allow him to address many of the client's practical/physical needs.
"Wholly Organized!®LLC?":
So, why get organized? While clutter control is a large part of what we do, WO goes beyond surface level organization. We work together to set up personalized systems and strategies that match your preferences and goals.  We view you as a whole person throughout the process of helping you reach your personal goals.
Walking into a cluttered room can be overwhelming. It can have a negative impact on every aspect of life, including relationships, nutrition, mental well-being, family and goals. The hardest part is getting started – that's where we come in! We help you define what success looks like for you, how to get there, and how you can keep up the work on your own.
We also work with you to make getting organized a positive experience.  The relief might lead you to say my space is: "Wholly Organized!"
---
Meet Lynne Poulton:
I am a Certified Professional Organizer (CPO®) and have a Bachelor's Degree in Social Work. Both my LSW professional licensure and CPO® designation are maintained by completing 75 hours of coursework every three years. In addition, I am working toward my Certification in Chronic Disorganization through the Institute for Challenging Disorganization.
Certified Professional Organizer (CPO®)
LLC, Insured
Bachelors in Social Work and Licensed Social Worker
Bound to the Code of Ethics of NAPO, ICD and Ohio Social Worker Board
Presenter-Work/Life Balance topics, Time Management & Organizing for 14 years
Professional Memberships:

Meet Jason Poulton:
I am a former corporate level executive who has a knack for noticing the "little things" around a house that can turn into big expenses.  In a sense, I have come full circle back to my first job at age 10 doing odd jobs for my great grandmother who lived a block away.  Click here to view the array of services available.
Insured
Maintains confidentiality
BS and Ph.D. in Chemistry
---
Wholly Organized! Gives Back:
---
Lynne's Certifications:
Certified Professional Organizer (CPO®)
Level II Hoarding Specialist Certificate
Level II Aging Specialist Certificate
Level II Chronic Disorganization Specialist Certificate
Foundation Certificate in Chronic Disorganization
Level I ICD Certificate of Study in Basic Hoarding
Level I ICD Certificate of Study in Understanding the Needs of the Aging Chronically Disorganized Client
Level I ICD Certificate of Study in Life Transitions
Level I ICD Certificate of Study in Basic ADD Issues with the Chronically Disorganized Client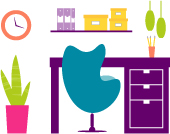 Lynne's Training Courses:
Below is a list of what I have been learning over the past couple years, and in parenthesis is the source.
---
2017
Helping Chronically Disorganized Seniors Downsize: Readying the Home for Sale 

(ICD)

Uncovering the Elephant in the Room: The Impact of Hoarding Behavior on Families 

(ICD)

PTSD From the Inside Out 

(ICD)

Eliminate E-mail Overwhelm for You and Your Clients 

(NAPO)

Mental Floss for Eliminating Brain Clutter

(NAPO)

Reframing Time and Energy

(ICD)

A Tale of Two Systems:  The Limbic System & Executive Function 

(ICD)

How Good Food & Supplements Can Improve Your Client's Ability to Focus 

(ICD)

How to Use Virtual Organizing to Help Your ADD & CD Clients 

(ICD)
2016
Time Management: What Should I Be Doing Now? 

(ICD)

Introduction to Interpersonal Intelligence 

(ICD)

Safety Days in Hoarded Homes 

(ICD)

Unconventional Time Management 

(ICD)

Life Transitions:  Issues Facing ADHD Adults Starting New Relationships 

(ICD)

Boredom's Impact on ADHD & Productivity 

(ICD)

Official Reports for Extreme Situations

(ICD)

Preventing Falls Among Chronically Disorganized Clients

(ICD)

Advanced Hoarding 

(ICD)

Creating and Maintaining a Hoarding Task Force 

(ICD) 

What Else Could It Be? The Role of Mental Illness in Clients with Disorganized Lives

(ICD) 

Secrets to Making ADHD Quirks Work

(ICD) 

Assisting Clients Living with Traumatic Brain Injury Challenges 

(ICD) 

Building Long-Term Client Relationships 

(ICD) 

Play is the Way: Help Your ADHD Clients Succeed 

(ICD) 

Strategies for Working with African American Adults and Students with ADHD 

(ICD) 

Interpersonal Intelligence and the CD Client 

(ICD) 

Games and Apps for Organization and Executive Function 

(ICD) 

Nonverbal Communication 

(ICD) 

Buried in Treasures Workshop: A Case Study 

(ICD) 

Imperfection Rules! Creative Ways to Run Your Business 

(NAPO) 

ADHD in the Family: How to Really Help 

(NAPO) 

Transparent Power: Improve Client Outcomes Through Direct Communication 

(NAPO) 

Holistic Time Management: Learn, Teach, Sell 

(NAPO) 

What's Next? Planning an Effective Business Exit Strategy 

(NAPO) 

Leveraging Competitive Market: Building Your Personal Brand 

(NAPO) 

Brief MI Strategies: Supporting Clients Managing ADD 

(ICD) 

Reclaiming Space & Life - Engaging & Working Collaboratively with Individuals with Hoarding Issues

(ICD)

The Science of Being Happy & Productive at Work 

(ICD) 

Telephone Support for Chronically Disorganized (CD) Clients-Coaching Strategies to Improve Outcomes

(ICD)

Beyond U.S. Borders: International Panel Discussion on Collaborating with Agencies to Benefit CD Clients 

(ICD) 

Working with Adult Children of Elderly Clients 

(ICD) 

Student Neurodiversity 

(ICD) 
---
2015
Transitions vs. Changes 

(ICD)

Introductions to Life Transitions 

(ICD)

Getting Things Done With ADHD 

(ICD)

The Aging Brain: New Trends In Thinking 

(ICD)

Downsizing The Homes Of Seniors, With Too Much Stuff: Tips & Strategies For What Works Best 

(ICD)

Guiding to Deciding 

(ICD)

Nervous System Resilience - Lela Carney 

(ICD)

Unlocking the Secrets to Teens - David Marcus

 (ICD)

Perspectives on Hoarding 

(Cuyahoga County Hoarding Task Force)

Normalizing ADD

Mid-Life Transitions for Women with ADHD 

(ICD)

Transitions: ADHD & Motherhood 

(ICD)

Home Zada (NAPO)

Hoarding Disorder: Effective Approaches To The Assessment, Diagnosis & Treatment  

(PESI)

Keeping It Safe: Navigating Through A High Content Environment  

(ICD)

Working with Clients with Traumatic Illness or Injury 

(ICD)

Perspectives on Hoarding 

(Cuyahoga County Hoarding Task Force)

Hoarding Disorder: Definitions & Best Practices - Bert Rahl 

(ICD)

Still Someone: Working w/People Who Have Memory Loss - Margrit Novack 

(ICD)

MESS: One Man's Struggle to Clean Up His House & His Act - Barry Yourgrau

 (ICD)

Recognizing & Managing Compassion Fatigue - Patricia Smith 

(ICD)

Universal Design: Making Life Easier for Everyone - Ann Williams 

(ICD)

I Have WHAT? A Practical Guide to Working w/ ADHD Adults Diagnosed at Midlife & Beyond - Linda Roggli 

(ICD)

Increasing the Hoarding Client's Readiness for Change 

(ICD)

Empower Family Caregivers: Approaches to Managing Mental Illness & Dementia

(Benjamin Rose Institute)
---
2014
Basic Chronic Disorganization 

(ICD)

Boundaries & Ethics 

(ICD)

Hoarding Disorder 

(ICD)

Understanding the Hoarding Scale 

(ICD)

Examining Dimensions of Grief 

(ICD)

Suddenly Single 

(ICD)

Motivational Coaching Basics 

(ICD)

Power of the Pause 

(ICD)

Collaboration with the Hoarding Project 

(ICD)

Finding a Voice for Children of Hoarders 

(ICD)

Working with Adult Children of Elderly Clients 

(ICD)

ADHD, Self Regulation & Executive Functioning 

(ICD)

If Only I Could Draw! 

(NAPO)

Stopping Overshopping For The Holidays 

(ICD)

Basic ADD

 

(ICD)

Difficult Conversations

 

(ICD)

What Organizers Need to Know about Executive Function

 (ICD)

5 Critical Truths of Authentic Leaders 

(NAPO)

Are You Listening? Really? Key Coaching Skills for the Experienced Organizer 

(NAPO)

Creating Home & Business Inventories

 (NAPO)

Decision Making & the Chronically Disorganized Client 

(ICD)

Going Paperless to Boost Productivity 

(NAPO)

Clearing Mental Clutter Makes Organizing Easier 

(NAPO)

Cultural Differences in Disorganization with Seniors Around the World 

(ICD)

Understanding the Physical and Mental Challenges of the Elderly CD Client 

(ICD)

How to Assess Hoarding at Home Before it Threatens Elders' Right to Age in Place 

(ICD)

Bridging the Gap: Helping Clients Move From Knowing to Doing 

(ICD)

Integrating Treatments for PTSD & Chronic Disorganization and Hoarding 

(ICD)

Curious Accountability: Getting your ADHD Clients Excited About Failure 

(ICD)

Family Systems: How They Work And Don't, When Disorganization Is Chronic 

(ICD)

Finding the Right Time Mgmt. System For Your Chronically Disorganized Client 

(ICD)
---
2013
Safety 

(ICD)

Living Stress-Free 

(ICD)

Hoarding Behaviors vs. Hoarding Disorder 

(ICD)

Humor in Grieving 

(Crossroads Hospice)

Grief & Ritual 

(ICD)

Flexible Structure Method 

(ICD)

Celebrating Inattention 

(ICD)

Ethics of Cultural Humility 

(Cornerstone of Hope)

Female Treasures: What We Cherish, How We Relinquish & Why 

(ICD)

From Inside-Out: The Culture of Families Dominated by Hoarding Disorder 

(ICD)

Scared Stiff! Fast, Drug-Free Treatment for Anxiety Disorders

 (David Burns)

Understanding Fatigue: Focus on Stress, Habits, & the Brain

 (Institute for Brain Potential)

The Power of Peer Support When You Have Too Much 

(ICD)

Strategies for Working with Clients with Memory Impairment 

(ICD)

Aging & The Developmental Disability Population 

(Senior Helpers)

Positive Strategies & Techniques for Successful Dementia Care Interactions

  (Sr. Helpers)

Bipolar & Depression: What's New, What Works 

(Gary Robinson)

Cutting Through the Clutter: Multidisciplinary Approaches to Hoarding

   (Eldercare Services Institute)
---
2012
Understanding Verbal Processors 

(ICD)

Brain-based Emotional Styles 

(ICD)

Mid & Later Life Challenges 

(ICD)

Compulsive Hoarding & Ambiguous Loss: The Need for Understanding Grief & Loss While Working with Hoarding Clients

 (ICD)

Articulating ADHD: Addressing Awareness Gaps in Our ADHD Clients 

(ICD)