Single Spaces and Entire Homes: Bedroom • Garage • Kitchen • Office • Closet • Entry • Attic • Basement
Transitions:  • Downsizing • Preparing for a move
Are you looking to make a move but clutter has taken over your home? Is your house ready to show to prospective buyers? Don't know where to start? Let Wholly Organized! help. Together, we will create an action plan and help you decide what you display, pack and store, dispose of or donate. We'll help you de-clutter, organize and create an inviting home that potential buyers will envision themselves living in. Whether it is a single space or an entire home, no job is too big or too small, we'll tackle it all! 
• Managing a House after a loved one passes:
Wholly Organized! specializes in helping people who have lost a loved one and are left with addressing the overwhelming task of sorting through years of belongings and stuff. Whether you're a surviving spouse or child, we help organize the Estate and assist with sorting and coordinating the disbursement of items. We help guide the decision making process and mediate with family members to help reduce turmoil and emotional stress. 
• Developing & Coordinating an Action Plan
•
Arranging disposal of unwanted items through:
Recycling
 • 
Estate Sellers
 • 
Antique Dealers
 • 
Consignors
 • 
Donation Centers
---

Would you like to have a handy person at the ready to help you complete that never-ending "to do list?"  Is it difficult to stay on top of household maintenance?  Do you need help with a special project?  Do you need a handy person to help your parent stay in their home?   Do you need things fixed before you move? 
Wholly Organized! will put together a customized plan to meet your needs from single visits to fix specific issues to quarterly or monthly "check-up" visits.
• General light household repairs • Hang pictures and artwork • Install pull-out drawers, closet organizers, curtain rods and blinds • Inspect under sinks, downspouts and water heater • Basic yard work and deep cleaning spaces inside and outside
---

You have enough to worry about in your business without having to work around clutter and disorganization. Don't waste another minute trying to find those important papers. Wholly Organized! will work with you to take control of your workspace so you can focus on the things that are essential to your business, including:
• Setting up file systems • Organizing office spaces and workflow • Managing goals and time management • Creating a routine to follow up with strategic partners • Establishing mileage logs and tracking practices
---

Located outside of our area? Not a problem!
Even if you live thousands of miles away, we can help you become Wholly Organized! By working "virtually" via phone and Skype, we are proud to offer the benefit of our services to an expanded audience of clients.
Take the first step today: Contact Us to schedule a consultation!
---

We develop customized sessions based on your audience and time limits.
 

• 

Time Management

• 

Organizing 101

• 

Goal Setting

• 

Work/Life Balance

•

 

Stress Management

• 

Coping with Change
---

Ready to sell your home? Overwhelmed by the process?
Wholly Organized!® has teamed up with Staged & Styled to help you sell your home.  Let Wholly Organized!® help you de-clutter & pack your belongings and have Staged & Styled make your home attractive to potential homebuyers.  Click here to view our brochure.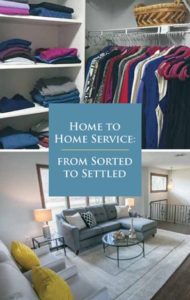 ---

We collaborate with Traci McBride of Tee McBee Image Consulting to help you detox your wardrobe, create your personal style, and organize your closet.  
Click here to view our brochure. 

---
Benefits of Partnering with Wholly Organized!!
At Wholly Organized!! LLC, our goal is to improve the quality of your life.

• Control clutter • Optimize what you already own • Identify new storage areas • Enjoy time in an organized room

• Establish a home for all your things • Regain time previously spent looking for things • Create simple systems to maintain organization • Enjoy more "me time"

• Feel relief and accomplishment • Energize yourself by finishing the project • Stress less • Pursue your goals and interests
---
We respect your privacy, all services are confidential.